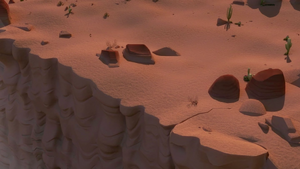 The desert is the place where Oscar, Harchi, Popy, and Buck live. The desert terrain is mostly orange colored like a hot desert in real life. It is presumably large.
It is the main setting of the Oscar's Oasis series.
Crocodiles, meerkats, skunks, and chickens also live in this desert. This desert is frequently littered on. It also has many cacti and rocks. Some bodies of water can be found.