About
This wiki is about the cartoon TV series Oscar's Oasis. Before contributing you may need to read the Rules.
Oscar's Oasis follows the sun-baked adventures of Oscar, a lizard in the middle of the desert finding himself misadventures wherever he goes, from finding water to fleeing from a band of misfits. Along the way he will meet characters such as Popy, Buck, Harchi, Roco, and The Skunk.
Meet The Main Characters
Latest activity
Random Media
Featured Article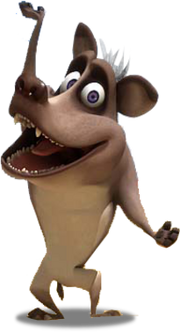 Harchi
Harchi is a brown Hyena who is part of the Trio in which he acts as the muscle. He is one of the main characters of the Oscar's Oasis series. He usually pushes the trio's cart. Among the trio Harchi tends to be the most clueless of the lot, and sometimes manages to come out of one of the trio's escapades without ever having really realized what was going on around him.
Affilated Wiki