About
Welcome to the wiki about the cartoon TV series Oscar's Oasis. The wiki is a project that allows users to add information to articles. Before contributing you may need to read the Rules of the wiki.

Oscar's Oasis follows the sun-baked adventures of Oscar, a lizard in the middle of an unnamed desert finding himself in misadventures wherever he goes, from finding water to fleeing from a band of misfits. Along the way he meets characters such as Popy, Harchi, Buck, Roco, Manolo and the Skunk.
Meet The Main Characters
Recent changes
Track the most recent changes to the wiki on this page.
List of abbreviations:
N

This edit created a new page (also see list of new pages)

m

This is a minor edit

b

This edit was performed by a bot

(±123)

The page size changed by this number of bytes
8 August 2022
6 August 2022
5 August 2022
3 August 2022
2 August 2022
31 July 2022
30 July 2022
27 July 2022
25 July 2022
21 July 2022
18 July 2022
17 July 2022
Random Media
Latest blog posts
Hey everyone! Updating to my last blog post. I'm gonna start fixing and reviving this wiki.
Shall we sing darlings?
I start!
(doki doki!) hey hey! my hearts beating when im hanging out with you!
Ask me anything darlings!
Rules: NOTHING SEXUAL! there might be pups here!
BE NICE!
no dares please.
this 👏 is 👏 a 👏 kids 👏 wiki 👏 so 👏 keep 👏 it 👏 pg 👏 at 👏 most 👏
See more >
Featured Article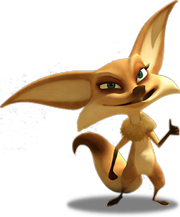 Popy
Popy is a Fennec Fox with sandy yellow coat of fur, with Emerald Green eyes, and brown tip at the end of her tail and dark brown paws. She is part of the Trio and serves as the boss of the trio, which also comprises of Buck and Harchi.
Affilated Wiki